AEROLEARN Asthma Placebo Inhaler

The AEROLearn Placebo Inhaler from Aero Healthcare is a non-medicated inhaler designed to provide a medically accurate replication for product training and learning scenarios.
Designed to provide asthma sufferers and other inhaler users with a training device to learn how to accurately use the inhaler before trying with a medicated device.
For training purposes only, these products are proven to enhance simulation-based training and improve student retention. To use on training manikins only.
Perfect for clinical training for patients new to inhalers.
Train hand and breath coordination prior to using a medicated inhaler.
Contains aerosol propellant, for training use only.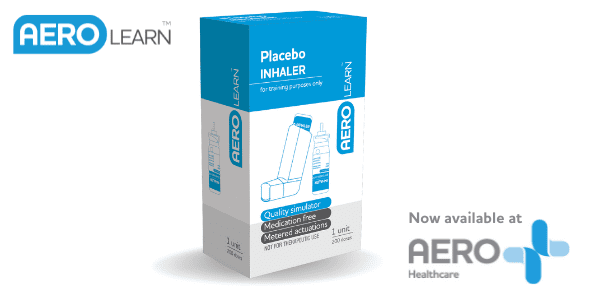 Further information from 
Nursing Times
Placebo inhaler devices are widely used in primary and secondary care to teach patients how to use their inhaler correctly without using active drug. The use of these devices helps health professionals to decide on the most appropriate device for the patient and prevents unnecessary ones being prescribed. However, the devices are becoming less easy to obtain as a result of European legislation, which aims to tackle concerns about cross-infection. Potential infections include: acquired immune deficiency syndrome; Burkholder cepacia; hepatitis B and C; methicillin-resistant Staphylococcus aureus; rhinovirus and other viral respiratory infections, and tuberculosis.
Infection risks also apply to spacer devices, inspiratory flow meters and peak flow meters. The latter are essential for monitoring chronic asthma and for the objective assessment and treatment of acute asthma.
Inhaler technique
Teaching patients to use their inhalers correctly is essential for respiratory management. Good inhaler technique is essential to ensure effective delivery of inhaled medications. Ineffective inhaler technique can have serious consequences:
- Poor control of respiratory diseases such as asthma and chronic obstructive pulmonary disease;
- Potential ill health for the patient;
- Significant cost implications if they are not used correctly or prescribed appropriately.
QUESTIONS & ANSWERS
Have a Question?
Be the first to ask a question about this.
Ask a Question