AEROMask Reusable Face Mask

Why Should You Wear Our Masks?
It's the most comfortable face mask you will ever own.
AEROMask Reusable Face Mask, with a three-layer design, is both washable and durable.
It is made from 60% Cotton and 40% Polyester.
It should be washed regularly to ensure cleanliness.

A 60% Cotton and 40% Polyester mask is made of common textiles, usually cotton, worn over the mouth and nose. When more effective masks are not available, and when physical distancing it's impossible, cloth face masks are recommended by public health agencies. 

For disease source control in an epidemic, situations to protect others from virus-laden droplets in infected mask wearers' breath, coughs, and sneezes.

Because they are less effective than N95 masks, surgical masks, or physical distancing in protecting the wearer against viruses, they are not considered to be personal protective equipment by public health agencies. 

The general public uses them in household and community settings as protection against both infectious diseases and particulate air pollution.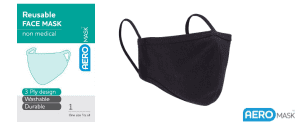 QUESTIONS & ANSWERS
Have a Question?
Be the first to ask a question about this.
Ask a Question