AEROWIPE 75% Isopropyl Alcohol Surface Wipes Pouch/60

AEROWIPE Alcohol Surface Wipes are synthetic tissue saturated with 75% V/V Isopropyl Alcohol BP and used for disinfecting hard surface areas and removing dirt and grime. The convenient resealable pack is perfect for regular use and travel. The compact, transportable and handy resealable pack is ideal for home and office or to keep in your bag or car. Use straight from packet while moist.


IDEAL FOR USE ON:
Stainless steel benches
Trolley tops
Equipment surfaces
Suitable for industrial use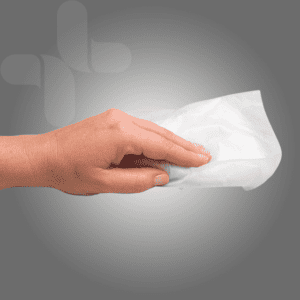 Further information 
Alcohol kills germs through a simple chemical process known as denaturation.
Denaturation occurs when alcohol molecules break down the proteins present in the structure of germs. When the proteins break down and lose their structure, they can't function properly. 
They lose their membrane protection, dehydrate, and quickly die.
This process is similar to what happens when you wash your hands with soap and water. However, soap is even more effective than alcohol.
The most widely used alcohol-based sanitisers contain ethanol (ethyl alcohol) or isopropanol (isopropyl alcohol). Ethanol is chemically the same as drinking alcohol. You might have heard isopropanol referred to as 
rubbing alcohol
.
When looking for household cleaners or hand sanitisers that can kill germs, opt for ones that indicate at least 60% ethanol or 70% isopropanol as an ingredient.
Keep in mind that these products aren't meant to be consumed. They won't help kill germs that are already inside your body. Plus, ingesting these products poses life-threatening health risks.
QUESTIONS & ANSWERS
Have a Question?
Be the first to ask a question about this.
Ask a Question