RAPIDSTOP Medium Bleed Control Kit – Tactical 13 x 18 x 8cm

The RapidStop Tactical Bleeding Control kit is designed for quick and effective control of mass haemorrhaging. Including the popular RapidStop Tourniquet, this haemostatic trauma solution offers military grade ruggedness, all age suitability, superior single-handed application and the fastest average occlusion time. Achieving full occlusion in the shortest time possible is critical. This kit is designed to provide treatment options with efficiency and effectiveness in mind.
The Tactical Bleeding Control Kit is compact in size and effective in all environments, whether used in Military, First Response or Civilian instance.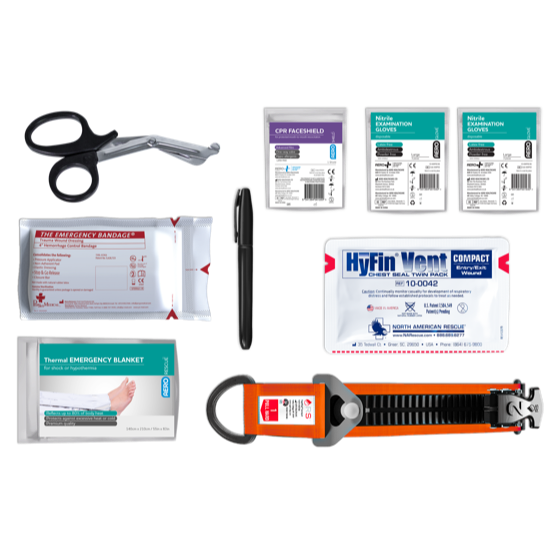 KIT CONTENTS:
DESCRIPTION | QUANTITY
RAPIDSTOP Tourniquet Orange Strap | 1
FIRSTCARE Civilian Trauma & Hemorrhage Control Bandage 10 cm x 17 cm  | 1
HYFIN Vent Chest Seal Pack/2 | 1
AEROINSTRUMENT Universal Shears 19 cm | 1
AEROGLOVE Large Nitrile Powder-Free Glove/Pair | 2
AERORESCUE Thermal Blanket 140 cm x 210 cm | 1
AEROSHIELD Disposable Face Shield | 1
AEROSUPPLIES Marker Pen | 1
5.11 UCR IFAK Pouch Medium | 1
Dimensions: 20 x 13 x 10 cm

Further information

Prehospital control of bleeding from the torso and junctional area's remains challenging but offers a great potential to improve survival rates. This review aims to provide an overview of potential treatment options in both clinical as preclinical state of research on truncal and junctional bleeding. Since many options have been developed for application in the military primarily, translation to the civilian situation is discussed.
QUESTIONS & ANSWERS
Have a Question?
Be the first to ask a question about this.
Ask a Question